| | |
| --- | --- |
| Alatas Service | Field Service, Engineering |
| Location | UK |
| Crane Manufacturer | Walker |
| Crane Type | Shiploader |
Alatas UK Ltd was requested to carry out Walker shiploader repairs after fire damage at a site near Bristol in the UK. 
The hydraulic pumping unit (HPU) on the shiploader caught fire and the damage from the fire destroyed the HPU, causing significant damage to the surrounding structure and walkways.  
There was also damage to electrical equipment and cabling, the operator's cab and various fixtures and fittings which was a result of both the fire and the subsequent emergency response by the fire brigade.
A Field Service team attended site for a survey to assess the damage and define requirements to recover the Walker shiploader.
Job Scope for Walker Shiploader Fire Repairs
Removal of Existing HPU (Hydraulic Power Pack Unit) 20ft container
Removal of Oil Cooler
Replacement of Cabin Window Glasses
Repair of Shiploader Operator Chair
Replacement of Damaged Electrical Cables, Junction Boxes, Lights etc.
Replacement of Walkways structure
Lifting support for the replacement of HPU Container support structure
Replacement of damaged section of the HAC Conveyor Cladding
Replacement of Damaged Windboards
Installation of mew HPU 20ft container
Commissioning of works
Job Gallery for Walker Shiploader Fire Repairs
Damages to Walker Shiploader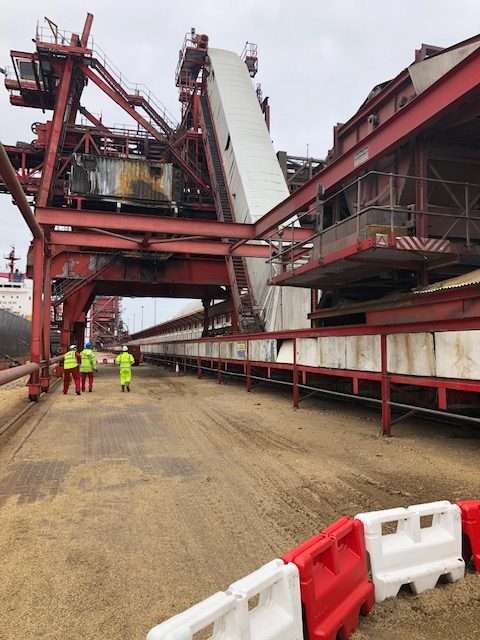 Structural Walker Shiploader Repairs
Electronic repairs to Walker Shiploader Testing