| | |
| --- | --- |
| Alatas Service | Field Service, Workshop Repairs |
| Location | Singapore |
| Crane Manufacturer | TTS Hua Hai |
| Equipment | Multi-folding Hatch Cover |
When opening and closing a TTS Hua Hai multi-folding hatch cover during a cargo operation, the No.3 cargo hold hatch cover unexpectedly developed a structural failure to the hatch cover cylinder attachment system.
This caused severe damage to the hatch cover hydraulic cylinders, damage to the hatch cover rollers and hatch cover steel structure.
The repairs to the TTS Hua Hai multi-folding hatch cover required three skilled disciplines from Alatas Singapore:
1. Field Service
A skilled Field Service team attended the TTS Hua Hai hatch cover on board the vessel to the remove the four cylinders and two sets of rollers without causing any further damage to the hatch.
2. Workshop Repairs
To avoid a long downtime waiting for new cylinders, we transported the hatch cover's damaged cylinders to our well-equipped Singapore workshop.
3. Design and Fabrication
The TTS Hua Hai hatch cover required new rollers which were were fabricated by Alatas.
Job scope for repairs to TTS Hua Hai hatch cover
Alatas Field Service team boarded the vessel with appropriate tools and equipment
Secured the hatch cover door by lashing with heavy ton (25T) wire ropes
Safely removed the damaged cylinders and rollers using heavy ton hydraulic jack complete with accessories. Then transported them to our sophisticated workshop for further repair and fabrication.
As a part of the repair requirement, our workshop department also fabricated new piston rods and pistons and assembled all four cylinders in a short duration. Alatas successfully repaired and tested the cylinders in our workshop before sending back to the vessel for installation.
At our engineer workshop, new rollers were designed by our design engineer using the defunct rollers as a basis for the design. Based on our design, and in accordance with the material specification, the new rollers were manufactured and supplied to the vessel for installation.
All of the cylinders and rollers repaired and manufactured by Alatas were installed onboard by our Field Service repair team.
The final step of these TTS Huahai hatch cover repairs was to test hatch cover No.3 several times to monitor its opening and closing functionality in the presence of Class Surveyor. The Class Surveyor found all to be satisfactory and approved the repair package performed by Alatas Singapore.
Job Gallery
Field Service team remove damaged components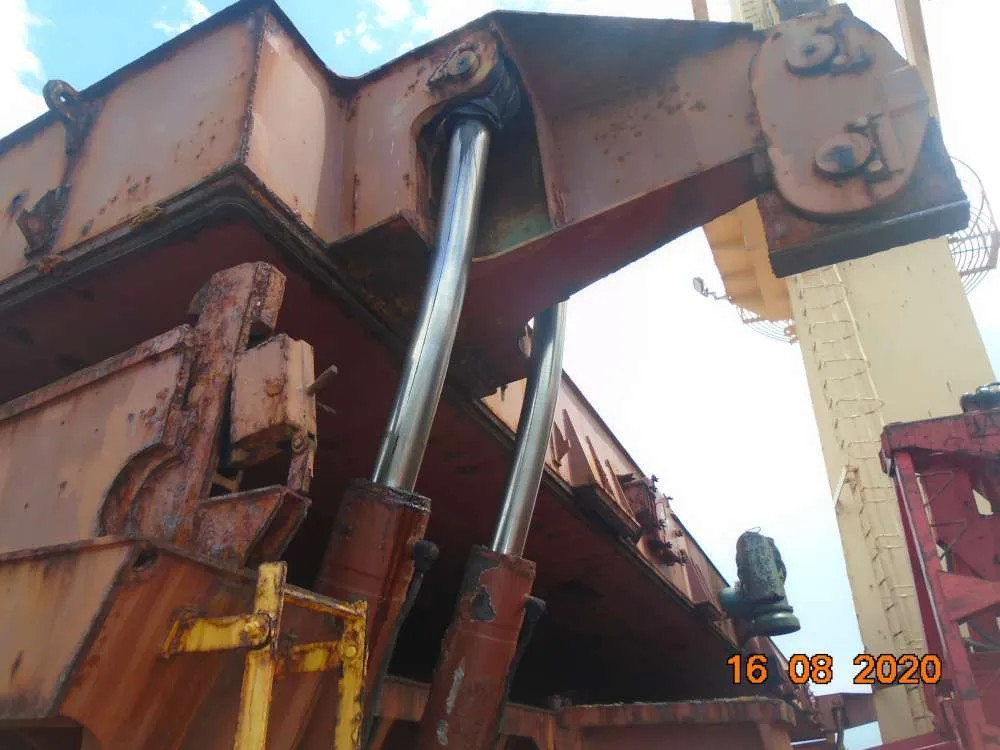 Workshop repairs and installation