| | |
| --- | --- |
| Alatas Service | Field Service, Afloat Repairs |
| Location | Singapore |
| Grab Manufacturer | Peiner-SMAG |
| Grab Model | MZGL 12000-6-B-S |
For this Peiner-SMAG Afloat Repairs project the customer reported a large gap in a MZGL 12000-6-B-S grab bucket even when closed. This caused the cargo to leak and impact productivity to their operations.
We were given a short deadline by the customer to repair the grab. Usually, repairs like these take a day to transfer the grab to and from the onshore workshop on top of the repair time.
To save time for the client, we planned an Afloat Repair solution. Our Field Service technicians who are equipped with all kind of specialist grab tools, hot work equipment, successfully executed the SMAG Grab Afloat Repairs within 3 days on the ship's main deck.
Job scope for Peiner-SMAG Afloat Repairs
Grab was arranged on deck with Alatas supplied jig supports
Traverse unit detached from the grab using with Alatas special tools
Our Peiner-SMAG trained engineer inspected the grab and made a repair plan for CLASS approval
Elongated bucket hinge holes were rebuilt by our certified welder
Our in-house Field Service repair team were engaged and using with special on-site boring machine all four hinge holes machined back to its original dimension
Traverse unit lifted aligned properly with the bucket and reassembled using with Alatas supplied original new hinge bushes and pins
Due to the severe wear, uneven bottom lips of both buckets were cut, cropped, replaced with new Hardox lips, followed by full weld by a certified welder in accordance with original manufacturer's procedure
All the welded areas were inspected by CLASS surveyor
During testing, there were no gaps found on the side or bottom of the grab buckets, declared by CLASS surveyor. Then functionally was ready to load and unload the cargo
Alatas is an approved Grab Service Station for Peiner-SMAG Salzgitter in South East Asia. Our technicians are Peiner-SMAG trained specialists to carry out on-board troubleshooting and on-site repairs.
Alatas also regularly work on other original manufacturer grab equipment such as TOBU, GUVEN, SGMC, ORTS, FUKUSHIMA and CHINESE MADE. We have been repairing grabs and sourcing components of grabs for over 30 years and we work to our own well-established procedures.
Job Gallery for Peiner-SMAG Grab Afloat Repairs
Faulty Peiner-SMAG grab bucket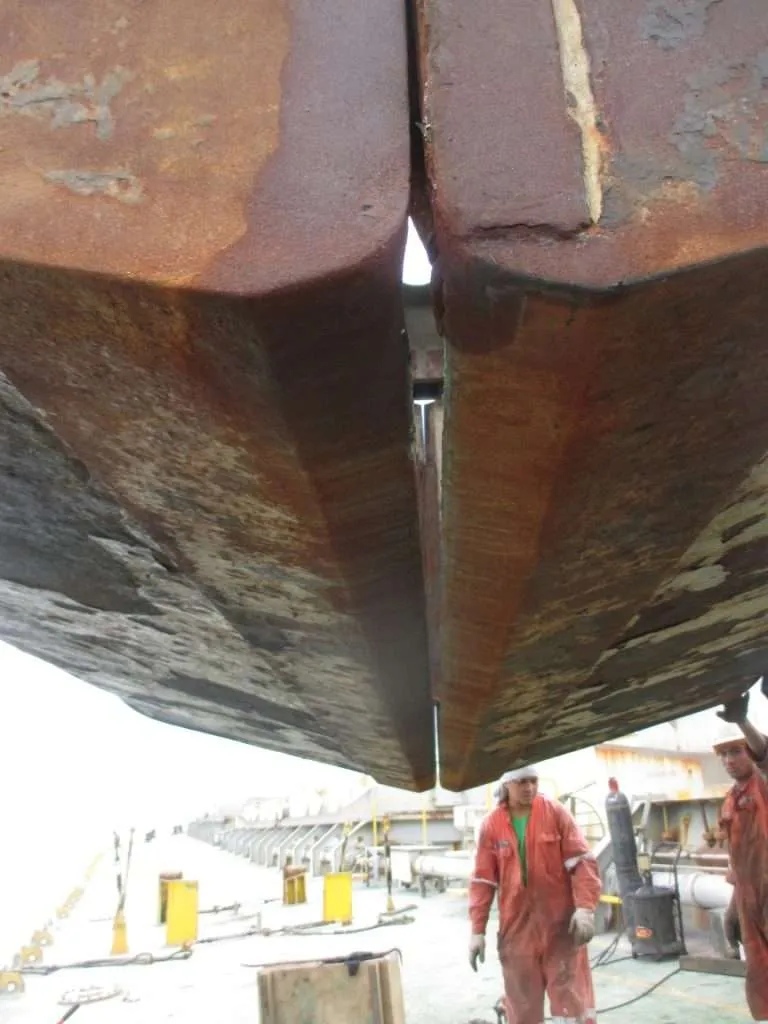 Afloat repairs and inspection