| | |
| --- | --- |
| Alatas Service | Workshop Repairs |
| Location | Singapore |
| Crane Manufacturer | Mitsubishi |
| Crane Type | Deck Crane |
Our client's vessel was in anchorage at Singapore. It was equipped with 4 Mitsubishi Deck Cranes and crane-4 had suffered an accident that causing the boom to collapse.
When the engineers from Alatas Singapore arrived, the boom's left main chord was touching and bending over the upright standing hatch cover and the boom tip laying was laying on top of the grab.
The inspection found the boom with severe damage and needed to be offloaded to our steel repair workshop for complete repairs under class supervision.
Inspection Before Mitsubishi Crane Boom Service
The left main chord of the boom is badly dented approx. 5m after the boom connection flange. Additionally, the whole main chord section with the dent is bent slightly over the whole length of approx. 8.7m. The holes in the left boom connection flange are elongated
The boom tip hit the top of the grab and 1x rope sheave is dented as consequence.
1x more rope sheave is badly corroded
The rope sheave shaft in addition to 3x set clamps that hold the rope sheave shaft got knocked by the impact when the boom tip landed on top of the grab
The square profile frame at the boom tip, used for parking the crane is badly corroded
Approx. 2.5m before the boom tip there is an old dent in left boom main chord
Idler sheave for the grab cable is badly corroded
Complete cable drum unit for the grab is in a very corroded condition
Grab cable is old and repaired along the cable
Complete wire rope drum unit for the grab is badly corroded
Damages to Deck crane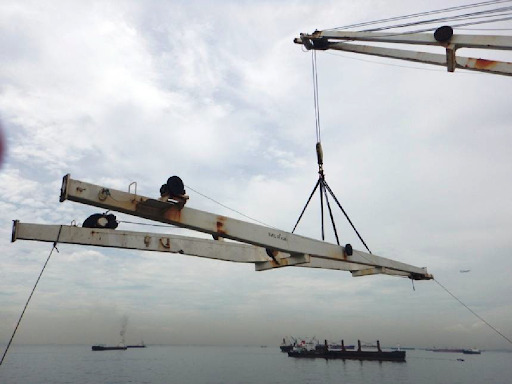 Job scope Mitsubishi Crane Boom Service
Carry out boom alignment on the boom before cutting/repairing is started to confirm the repair areas
Carry out NDT testing of all structurally important welding seams on boom main chords, 2x cross member and boom tip
Confirm steel grade (Lab Test)
Establish boom repair procedure for Class approval (Class (ABS)
Replace 8.7m of the left boom main chord (Boom Foot section) including the boom connection flange
Replace 1m long C-Profile (with old dent) on left boom main chord approx. 2.5m before the boom tip
Replace square profile frame at the boom tip
Replace 3x clamp set for the rope sheave axle
Replace 2x rope sheaves and overhaul 3x rope sheaves
Replace rope sheave pin
Replace all rope guards at the boom tip
Replace all grease pipes and distributor block
NDT (UT / MPI) on all repair welding after completion
Painting primer on all new metal fabrication
Replace badly corroded idler sheave for the grab cable
Overhaul complete cable drum unit for the grab
Replace old and repaired grab cable
Overhaul complete wire rope drum unit for the grab
Job Gallery for Mitsubishi Crane Boom Service
Structural Mitsubishi Crane Boom Repairs