| | |
| --- | --- |
| ALATAS' SERVICE | FIELD SERVICE |
| LOCATION | NORTH EUROPE / DENMARK / BALTIC SEA |
| EQUIPMENT | SHIP CRANES |
| BRAND / MODEL | DECK CRANE TTS-LMG H-QS20060353 |
INTRO
The Alatas Turkey experts replaced the old eco mat plc electrical cable connections with new ones. Then the new PLC was replaced. They bypassed the problem and then fixed it. The specialists tested all of the circuit devices. They performed all of the controls, and based on the results of these controls and detections, Alatas Turkey professionals gave recommendations to resolve the issues.
BACKGROUND
The customer contacted Alatas Turkey to troubleshoot the Crane.
ALATAS' SOLUTION
Specialists from Alatas Turkey removed the old eco mat plc electrical cable connections, replaced them, and completed all essential examinations to detect and rectify problems.
Job Scope
Alatas Turkey deployed a team of professionals to troubleshoot and address issues with the Crane. The specialists traveled to Denmark and the Baltic Sea to attend to the vessel.
First, they disconnected the old eco mat PLC electrical cable connections and installed a new eco mat PLC. They connected the new cable connections according to the electrical circuit, and the display showed all parameters, indicating that the system was now operational.
Next, the specialists replaced the new PLC and commissioned the entire system, ensuring that the Crane could operate normally.
During their examination, they discovered that the time relay had not been established as it should have been. The professionals set the correct time for it.
To address a fault, the technicians applied 4mA to the current sensor (M02 T1) PLC output using a loop calibrator.
Further investigation revealed that some circuit devices were defective, resulting in inconsistent operation of analog sensors. As a consequence, the crane had not been functioning correctly in normal operating mode for an extended period.
Additionally, the specialists found that the star control had been deactivated, and an electrical cable had been unplugged from the line, posing a risk to the main motor.
To get the crane back to normal working condition, Alatas Turkey specialists recommended replacing the appropriate sensors and gadgets.
However, the technicians cautioned that even after replacing the problematic parts, there might still be issues with the system's functionality.
Finally, the crane was handed over to the team in a working state, operating in emergency mode. All movements and functions were tested in this mode, and the crane could be operated under emergency conditions.
The Alatas Turkey technicians advised considering changing the crane's control systems because they had not been serviced previously, and the electronic components were outdated. This change could improve the crane's overall performance and reliability.
CRANE NO 1 TROUBLESHOOTING IN DENMARK, BALTIC SEA GALLERY
Ecomat plc electrical cable connections
Checking the current sensor
Control the joystick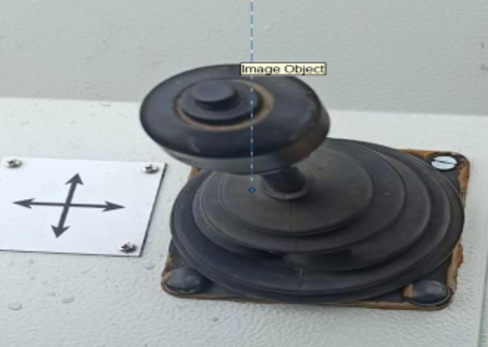 Pressure switch